Introducing Lisa M. Courtney, PeaceRaiser 6 Honoree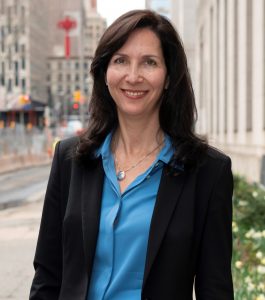 We're excited to announce our PeaceRaiser 6 Honoree, Lisa M. Courtney, Esq.! Lisa's support of and belief in New York Peace Institute has been instrumental in expanding our court programs. We credit Lisa and the Unified Court System staff with opening up doors for us in Housing, Small Claims, Family, Surrogate's, and Matrimonial Courts. We can't thank Lisa and her team enough for their support and look forward to honoring her at the PeaceRaiser!
Lisa M. Courtney is the Statewide Alternative Dispute Resolution ("ADR")  Coordinator for the NYS Unified Court System, where she works to promote the growth of alternative dispute resolution programs throughout New York State.
Lisa oversees the ADR office, which includes the Community Dispute Resolution Centers Program, the Attorney-Client Fee Dispute Resolution Program, the Collaborative Family Law Center, and the Part 146 training program approval process.  She assists courts in developing ADR programs, teaches mediation and settlement skills workshops for judges, court attorneys, legal services attorneys and private practitioners, and coaches attorneys and law students in bar-sponsored mediation training programs.  She is an advisor to Chief Judge Janet DiFiore's and Chief Administrative Judge Lawrence Marks's Statewide ADR Advisory Committee.  She is a co-chair of the New York Women's Bar Association's ADR Committee.
Lisa first joined the Statewide ADR office as Special Projects Counsel, where she set up the nation's first Collaborative Family Law Center, and mediated court-referred cases.  Previously, she coordinated the NYC Civil Court's Mediation Program, the NYC Housing Court's Volunteer Lawyers Project, the Community Seminar Series, and Help Centers.  Lisa has worked as a Court Attorney, as a legal writing instructor, and as a litigation associate.  Lisa has also served as a volunteer mediator with the NY Peace Institute.  She received her J.D. from the Columbia University School of Law, where she was a Harlan Fiske Stone Scholar, and graduated cum laude from Columbia College.  She speaks Spanish and Hebrew.
Buy your PeaceRaiser tickets today!